RBT 247 is recognised as the safe and efficient and effective way to remove moss and algae from a variety of outdoor surfaces around the home and and in the commercial sector. It is now available in 1,  5, 10 and 20 Litre containers, to treat the following areas:
1 Litre in 10 Litres of water will treat 110 sq m

10 Litres in 100 Litres of water will treat 1,100 sq m
After being treated once RBT 247 can be re-applied within one week at half rate to get a more intense clean and a longer lasting result. Further treatments will enhance the life of the treatment as the residual barrier is built up to inhibit further re growths. This layer is created as a microbial protective layer which does not contain alcohol, chlorine or bleach, and as such is completely safe to animals and humans and is fully HSE approved (No 9173).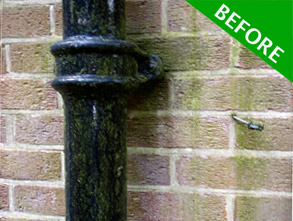 It is completely safe to use on a variety of materials such as wood, glass, plastic, metal stone etc etc.
Buy this now from Sweepfast via this link and have it shipped next day!