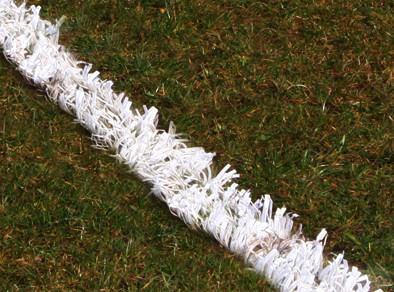 The most up to date pitch marking system is the Pitchline 3G System and it is now available from Sweepfast and means once in place you won't have to mark your pitch out for several years to come, yet you will have a full set of vibrant lines that will last.
Pitchline3G is the most up-to-date pitch lining system available anywhere in the world. First launched in 2002, this innovative pitch-marking system has been constantly refined and improved and in the latest Pitchline3G version, the results are literally outstanding in their fields.
The system installs a set of synthetic line marking material into the surface and presses the ground surrounding the lines back around them to secure. Once in and the root system has gained a hold the lines are nearly impossible to remove, and simple ground maintenance is all that's needed to maintain a highly visible line.
The system is laser guided for accuracy and provides a smooth and fluid insertion of white line material, only leaving a small amount of manual digging in at the start and end of a line insertion.
To see a demonstration of this amazing system call Sweepfast on 0121 747 9255 or email info@sweepfast.com.