New Products
It's not everyday a new product comes into this market that customers have been crying out for, but that's just what's happened with the introduction, by Sweepfast, of the ATC1400.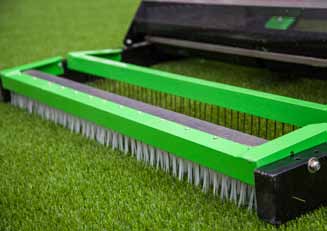 Interim cleans or Powersweeps on full sized 3G pitches are effectively done with the ATC2000 machine, and a full sized pitch takes about 2 hours with one man and a small tractor or quad bike to complete. But the problem comes when you try and get this service into 5 aside 3G pitches, with their smaller area and tighter access the width of a standard ATC2000 makes it difficult to manouver between pitches and getting into the corners is nigh on impossible. However with the introduction of the ATC1400 the reduced width and lighter chassis makes 5 aside pitch regular maintenance a breeze.
This new machine like its bigger variant will de-compact, clean and level up the infill on a 3G pitch all in one pass, the only input needed is a small tractor or  quad bike to pull it at a reasonable pace (10-20 km/hr).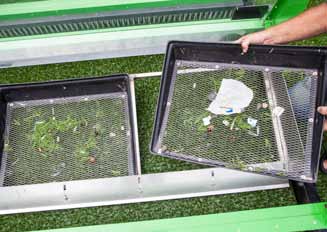 The rubber infill granules are lifted onto the reciprocating sieve by the forward motion provided by a tractor or quad, large particles of debris and fibre are retained and the cleaned rubber falls back onto the pitch.
48 x 3mm infinitely adjustable spring tines set behind the sieve relieve the compaction at every pass, these can be set to penetrate the upper most layer where the compaction occurs (10-18mm) and an adjustable specially designed brush is set behind that to leave the infill level and even, making for a safer cleaner playing surface.
The machine complete only weighs in at 46 kg so moving it around isn't such a back breaking job, yet it's still heavy enough to be solidly built. It's constructed from powder coated aluminium, stainless steel and bright aluminium. It measures up at:
1,510 mm Deep

1,500 mm Wide
290 mm High
46 kg Weight
Call or email via the website via this link