Analysis of the infill in a sand filled synthetic grass pitch
Just imagine that a few years ago you spent thousands of pounds on an all weather hockey pitch, or tennis courts, and as you look out of the window at it now and see ducks wading about on it you're aware that all is definitely not well. Maybe closer inspection reveals sludge patches, and green ribbons of broken fiber running across the surface? If so then it is a signal that the infill is becoming contaminated with all manner of biological contamination and this has reached such a level where it won't drain the rain water away, or at least only very slowly.
A quick panic call to a specialist installer might bring back the comment that "Oh yes it's quite common, but the synthetic grass surface needs replacing at a cost of £ thousands"!! As you stare at the ceiling and wonder why you are lying on the floor, it all comes flooding back. Your groundsman finding you there says "Don't worry boss we can get the surface tested by Sweepfast, and see if we really do need a new pitch" Following a brief call to Sweepfast, and a site inspection carried out, you are now in possession of a sedimentation test report with the results that show:
the pitch isn't worn out and actually has only worn a few millimeters from it original height
the infill is contaminated and the levels are well over 10%
the pitch can be "refurbished" for a fraction of the cost of a replacement
Happy Days!!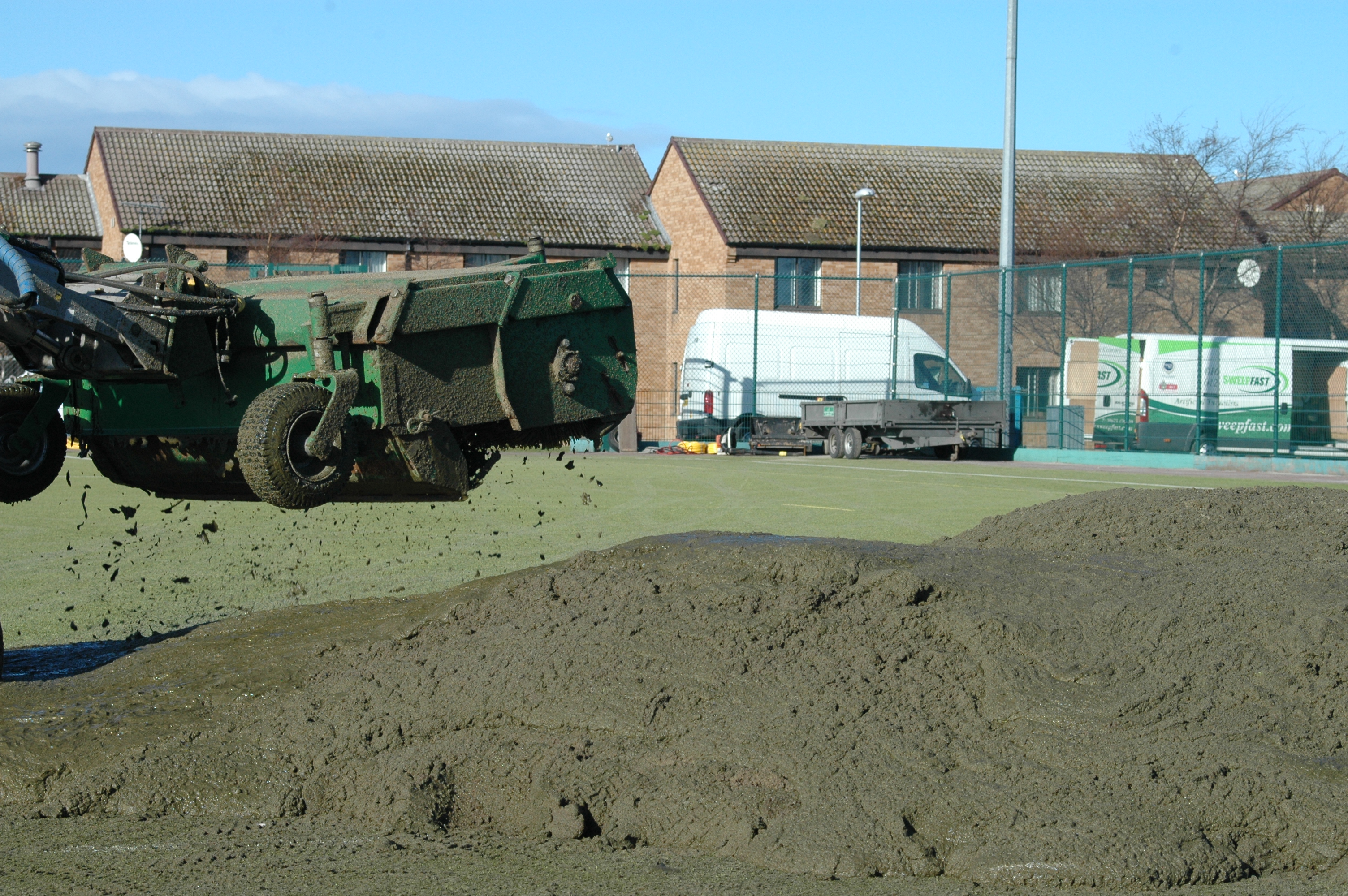 Test results in the past have shown, particularly on RAF pitches near the sea where sea gulls spend a lot of time dumping "fuel" on the pitch, contamination levels reach over 70%, and a full refurb and sand replacement have dropped this down to less than 1%.
An indication backed up by facts that the Hydrofast  System from Sweepfast is extremely effective at extracting sand from long pile sand filled synthetic grass surfaces, cleaning the pitch to 'as new', and even cleaning out the drainage holes in the backing, a thorough job indeed.
For more information call Sweepfast on 0121 747 9255 or simply visit www.sweepfast.com.