Tarmac & Acrylic Tennis & Netball Sports Surfaces
With the speed that modern day competition tennis is played at today, surface safety must be paramount and maintaining a consistent level of grip is essential. I'm sure that the recent wet weather which seems to be the trait of English summers these days, highlights courts that are slippery and potentially dangerous to play on at competition level. Netball and basket ball played outdoors must also suffer from the same lack of grip making stopping and turning without slipping over a hazardous venture.
For the private tennis court owner, although all of the above are of importance, the appearance of a moss covered slimy tennis court in the back garden I'm sure is not a pleasant sight and, although having it cleaned will certainly improve it visually, there's nothing like a coat of new paint to make it look as good as new.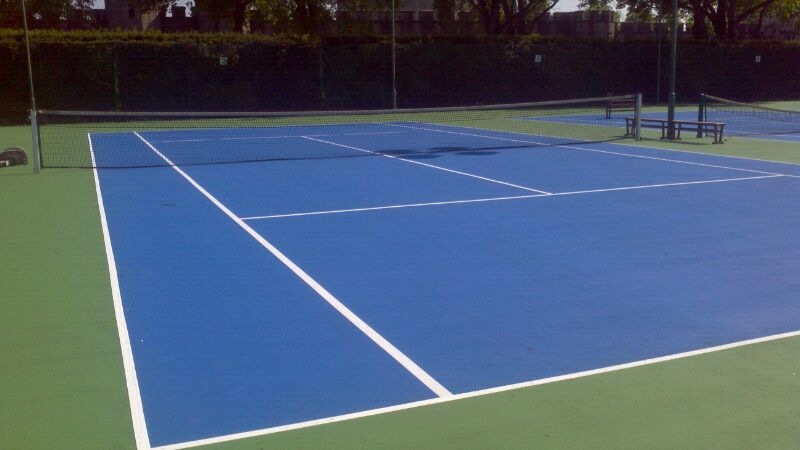 For both situations the application of a new surface coating has another, and the most important, effect in that it restores the original grip. New sports surface coatings have slip resistant properties with the inclusion of a material in the paint which creates a grit like feel to the surface making them so much safer to play on.
Prior to re coating they need to be deep cleaned with pressure washers in some form or other, and Sweepfast use the Hydrofast System to make sure all the contaminants are out of the pores in the tarmac. This is a system developed by Sweepfast over the last 8 years to rapidly and effectively clean all types of sports surfaces, minimising the damage caused by other methods. Surfaces professionally cleaned in this way will have their drainage restored so when they're re coated they not only look good but they can also be played on, in or just after a storm!! Very important here in the UK!!!